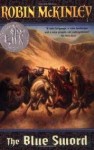 The Blue Sword
speculative fiction
Ace Books
March 15, 1987
Print
248

THE STORY:
Harry Crewe, a young girl whose parents have died, is sent to live with the Greenoughs, where she adapts to the desert environment. During her stay with them, Harry meets Cassie and Beth, two girls from the area, and talks about the landscape and about it. When Harry returns to the castle, where she stays, she sees Corlath, the Hill-king. When Corlath leaves, Harry thinks about his eyes and how they were "different." Corlath also thinks about what he sees in Harry's eyes, and comes to the conclusion to kidnap Harry. After realizing that she has kelar, a mystical power that passes through a bloodline, Harry accepts being kidnapped. Later, Corlath asks Mathin, a teacher, to teach Harry how to use a sword, because of a threat to the Hillfolk and the Damarians, the people Harry was sent to live with. Harry, after learning how to swordfight, attends a competition to see if she is worthy to be a rider, a selected person to be with Corlath, or the king. Towards the end, Harry meets an unusual character, who she doesn't know, and defeats him, revealing the figure, Corlath. During the dinner to congratulate Harry, Corlath gives her the sword, The Blue Sword, only used by another woman, Aerin. Later, Corlath and the riders go out to fight against the Northerners, and at the end defeat them. Harry, Corlath, the riders, and the Damarians extinguished all the threat against the valley they lived in
MY OPINION:
When I read the first few pages of the book, The Blue Sword, I thought it was going to be boring because the book was talking about orange juice and how there is an orange patch somewhere. This book contains some vocab words, which makes it a little bit hard to understand. But after reading more and more of the new-found novel, I became more interested by the sudden change in setting and adventure. "The Blue Sword" first depicts a peaceful environment then it changes into a more adventurous and heroic-type setting. This book contains many new words, such as Hill-king, Damar, and many other words. Although this book is good and has a great conflict, it also has some parts where the reader cannot tell what is happening, because there is a sudden change in the plot. Looking at the difficulty and amount of the vocab words, I would say that it was reasonably easy. In my opinion, this book is great for middle schoolers. I would rate it 8 out of 10 stars.
STUDY QUESTIONS AND VOCABULARY:
FIRST SECTION
1. Who is the main character of the book?
1a. Harry Crewe is the main character.
2. Who meets Harry when she is about to go ride her pony?
2a. She meets Cassie and Beth.
3. Who is the King of the Hillfolk?
3a. Corlath is the king of the hillfolk
4. What is the name of the horse that was given to Harry, by Corlath?
4a. The name of the horse was Isfahel or Fireheart.
5. What does Harry do right when she settles in the Hillfolk Camp?
5a. Harry takes a shower.
avowal (pg 5)
tangible (pg 21)
verandah (pg 34)
fourposter (pg 61)
inscrutable (pg 86)
MIDDLE SECTION
6. Who teaches Harry sword skills?
6a. Mathin teaches Harry sword skills.
7. Who does defeat at the end of the competition?
7a. Harry defeats Corlath.
8. What is given to Harry at the end of the banquet?
8a. Harry is give the Blue Sword.
9. Who do the Riders meet in the Hollow?
9a. The Riders meet Murfoth.
10. Who is said that they worship the ground?
10a. It is said that Terim worships the ground.
manifestation (pg 104)
whit (pg 129)
anteroom (pg 145)
disheveled (pg 165)
penultimate (pg 185)
LAST SECTION
11. Who was the oracle Corlath and the riders sought?
11a. They sought Luthe.
12. Who does Harry and the riders meet soon after their departure from the oracle?
12a. They met Jack Dedham and his army.
13. Who does Harry meet after their first day with Jack?
13a. Harrys meets Kentarre.
14. Who learns from Aerin's mistakes?
14a. Corlath learns from Aerin's mistakes.
15. Who does Harry marry at the end?
15a. Harry marries Corlath.
disconcerting (pg 186)
pragmatism (pg 207)
superfluous (pg 221)
callused (pg 252)
belligerent (pg 271)