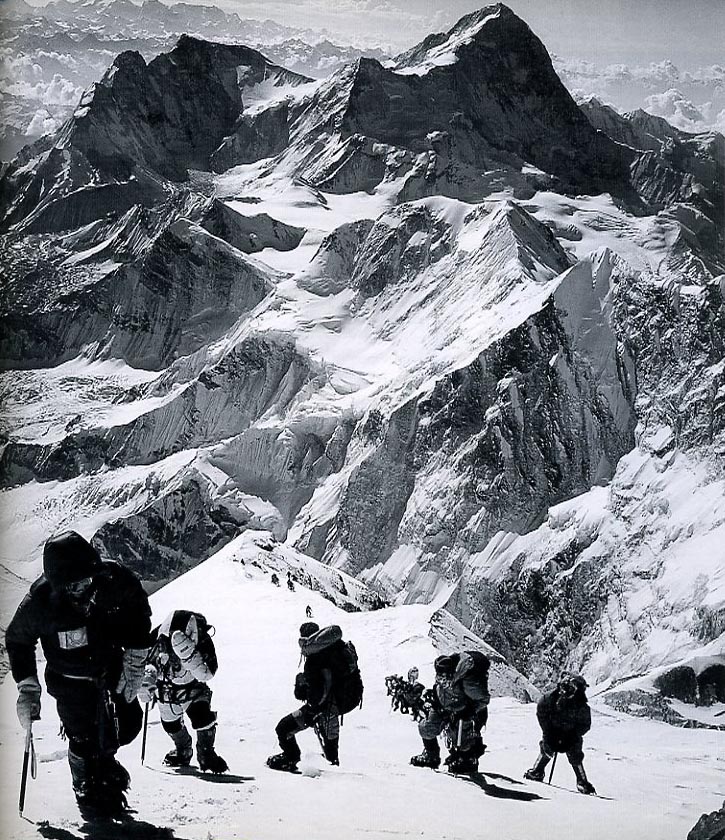 Into Thin Air: A Personal Account of the Mt. Everest Disaster
Nonfiction
Jon Krakauer
1997
Print
301

THE STORY:
Into Thin Air: A Personal Account of the Mt. Everest Disaster (1997) is a non-fiction memoir by Jon Krakauer that substantiates the endurance needed to climb Mount Everest. Jon takes the opportunity to climb Everest and write about his experience for Outside, an American travel and adventure magazine. When Jon was younger, he dreamed about mountain climbing, but he became more cynical when he realized that even amateur climbers could reach the highest summits if they paid enough money. Jon joins the Adventure Consultants, a commercial climbing group led by an experienced New Zealand mountain climber named Rob Hall. The story begins at Base Camp, where Jon is refilling his oxygen tank. He meets Scott Fischer, the leader of Fischer's Mountain Madness, another commercial climbing group. Fischer is illustrious for his climbing experiences, but Jon is surprised to find him looking tired and arriving last in the refilling line. As the Adventure Consultants head to Camp One, they persevere through inclement weather. Upon arriving at Camp Two fifteen days later, the climbers begin to feel the effects of the sub-zero climate on their bodies. Many clients suffer from illnesses, indigestion, and frostbite, which limit their energy. Jon does his best to tolerate Everest's bleak circumstances and take care of his teammates. At Camps Three and Four, difficulties with breathing, eating, and climbing cause some of the climbers to need longer rests before continuing. Jon finally reaches the summit with one of his companions on May 10, 1996 at 1:12 pm. His other teammates are below him, striving to muster enough strength to climb. Jon feels accomplished as he descends from the summit, but he soon learns that his companions are stuck in a terrible snowstorm. What will happen during this consequent test of endurance?

MY OPINION:
In his suspenseful and tragic memoir, Jon Krakauer vividly describes his experience of climbing the world's highest mountain and enduring the deaths of his companions. Jon is a valiant, dedicated, and loyal man who perseveres in his dreams to reach the top of Mount Everest with support from his companions. I was impressed by Jon's willpower and his willingness to risk his life in this mountain climbing experience. In terms of plot, I thought that the beginning of the book moved a bit slowly, but I soon became intrigued by whether all climbers would survive the dreadful storm. When Jon finally reaches the top of Mount Everest after overcoming several hardships, I felt delighted that he had achieved his dream. However, I was very saddened when eight climbers died, including Hall and Fischer, the two main leaders. This book is best suited for ages fourteen to sixteen because of the swear words and complex writing style. Some readers might have difficulty with understanding the technical vocabulary or reading about the unpleasant illnesses. I would rate this book a ten out of ten because Krakauer effectively conveys the suspense and tragedy of his expedition.
STUDY QUESTIONS AND VOCABULARY:
FIRST SECTION
1. Why did Krakauer want to write his experience on Everest so badly?
1a. Many incidents happened when he climbed Everest, and although other authors and editors told him not to write his experience so abruptly, he ignored them and write what happened. (pg. xvi)
2. Why do Jon and other climbers want to climb Mount Everest?
2a. Although there are many dangers for climbing, some people want the popularity even though they are inexperienced, or other people genuinely want to climb it and do not care as much about the fame. (pg. xvii)
3. Who are the two pack leaders for climbing Everest?
3a. Rob Hall, who is Krakauer's guide for the Adventure Consultants, and Scott Fischer, the guide for Fischer's Mountain Madness. (pg. 9)
4. Who were the first men to stand on the top of Mount Everest?
4a. Edmund Hillary, who was admired by many climbers, and Tenzing Norgay, a Sherpa mountaineer. (pg. 20)
5. Why did Rob Hall and Scott Fischer want Jon to be in their group?
5a. They did not actually want Jon, they only wanted the advertising from the mountain climbing magazine, Outside.
gangrenous (pg.8)
accretion (pg. 15)
raconteur (pg. 33)
crepuscular (pg. 43)
delineated (pg. 63)
MIDDLE SECTION
6. Who were the two clients who weren't feeling very well near Camp Three?
6a. Lou Kasischke and Frank Fischbeck were the two who weren't feeling well. (pg. 158)
7. Why didn't Makalu Gau care when Chen died?
7a. Gau didn't care because it might have been a cultural act of honor by climbing to the top of the summit. (pg. 162)
8. Why is Lopsang Jangbu very loyal and honest to Scott Fischer?
8a. He is very loyal because he is extremely devoted to Fischer, and Jangbu would make decisions for Fischer so he would not have to think of the decisions. (pg. 178)
9. Why don't Lopsang and Ang work well together?
9a. Because of Ang's moody personality, he changes his attitude quickly. Even though they were asked to work together, Lopsang short-roped Sandy Pittman, leaving Ang behind. (pg. 182-183)
10. How did Beck ruin his vision when climbing the summit?
10a. His eyesight begins to fail when the barometric pressure at high altitudes is low. When he tried to make his eyesight better by rubbing his eyes, he did not know that he rubbed ice crystals into his eyes, lacerating both of his corneas. (pg. 197-198)
prepubescent (pg. 109)
vertiginous (pg. 143)
eschewing (pg. 160)
accrual (pg. 178)
jettisoned (pg.187)
LAST SECTION
11. Who might have died first during the storm?
11a. Yasuko Namba because her finger would not straighten, and she was not moving. (pg. 222-223)
12. Why did Jon think it was his fault for Andy Harris's death?
12a. Jon accidentally thought he met Andy, but he met Martin Adams. He reported to Andy's family and friends that Andy died on the edge of the South Col, but it was actually Adams who fell and survived. (pg. 230-231)
13. What is the main purpose for the commercial groups who climb Mount Everest?
13a. The advertisement companies only want climbers to get to the company's goals, not to be safe and make good decisions. The groups also only want the money that they will receive after they reach the certain goal. (pg. 237)
14. Who called Rob Hall on the satellite phone?
14a. Rob Hall's wife, Jan Arnold, who thinks her husband would come back home safely.
15. How many casualties were there for this season?
15a. There were twelve casualties for this season. (pg. 292)
profligate (pg. 210)
deleterious (pg. 212)
egregious (pg. 231)
conjecture (pg. 243)
disquietude (pg.283)