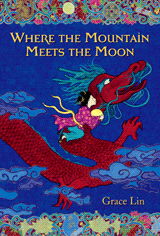 Where the Mountain Meets the Moon
None
Children's literature
Little, Brown Books for Young Readers
July 1, 2009
Print
278

THE STORY:
A family that is poor does not have enough food, so even the daughter, Minli, has to work. One day, Minli's father tells Minli a story about Old Man of the Moon. He will answer only one question in every ninety-nine years. Soon, a goldfish tells her how to get to the Old Man of the Moon, so she decides to look for the Old Man of the Moon. She goes to find the Old Man of the Moon; she meets a dragon tied in ropes. Minli helps the dragon because he needs to see the Old Man of the Moon since the dragon cannot fly. They start to look for the borrowed line and they stop by a city while the dragon stays outside the city while Minli looks for the borrowed line, the bridge, in order to ask a question. Minli meets the king and the dragon meets the stone lions and surprisingly, there are two borrowed lines. They find the path to the Old Man of the Moon and unfortunately, the bridge is too small for the dragon to walk across, so Minli goes by herself. The Old Man of the Moon tells Minli that she can only ask one question. She soon decides if she should help the dragon or her family.
MY OPINION:
I thought that this book was a nice and easy one. I thought this book was nice and easy because there were not many words I did not understand. The vocabulary was a bit too easy in this book. It was a bit of a childish book. Another part of this book that I like is that it gives you a little story in the middle that tells you more about the book and gives you a bigger picture. Also, this book showed that Minli could be independent. She had lived through in a place for many weeks without getting injured and making friends, which eventually helped her live. This book has showed life lesson skills that we can use too in our lives. An example of what the book showed us is Minli and the dragon's friendship. They got along right away. I would recommend this book to middle schoolers because I think this is a great book and fun to read. Overall, I give this book an eight out of ten stars.
STUDY QUESTIONS AND VOCABULARY:
FIRST SECTION:
1.   How do we know Minli is mature?
1a. Minli thought to herself thinking that it wouldn't be fair for Pa to feed the goldfish when Minli was the      one who was supposed to take care of the goldfish.
2.   What part shows us that Minli's family is poor?
2a. Minli helps the family, works, and her mom complains when they had to feed another mouth.
3.   How do we know this family all cares about each other?
3a. Right after they figured Minli left, the parents had left too. Minli left because she wanted her family        to have better fortune.
4.   What part shows us that Minli is still young?
4a. Minli believed Ba's story and decides to go to the Old Man of the Moon for advice alone.
5.   If you were listening to their stories, would you believe them? Why or why not?
5a. No one has ever seen the Old Man of the Moon, so it would be a bad idea if you were to try to find        him.
inexplicably (pg. 9)
magistrate (pg. 10)
pang (pg. 27)
coaxing (pg. 83)
emissary (pg.
SECOND SECTION:
6.   How do we know Ma and Ba miss Minli?
6a. On page 150, it showed how they always waited until it gets dark.
7.   Who do you think has the real borrowed line?
7a. The Dragon because the lions are so old, they have knowledge.
8.   Why do you think the tiger is evil?
8a. The tiger most likely had a bad history.
9.   How do we know Dragon is hurt badly?
9a. The Green Tiger has poison claws and Dragon has not moved yet. Dragon will die before sunset if        no one helps him.
10.   How do we know Minli likes the house?
10a. "….Minli's eyes dazzle with color"
intricate (page 135)
turbulent (page 147)
prods (page 154)
jutting (page 172)
crimson (page 182)
THIRD SECTION:
12.   How do we know that DaFu is nice?
12a. He helped Minli in a risky situation and also allowed her to sleep over at their place.
13.   What shows us that the goldfish is wise?
13a. He gives Pa advice and every time Pa listens to the goldfish, it helps Ma realize her mistakes.
14.   How do we know Minli becomes less confident?
14a. People tell her no one has seen the Old Man of the Moon.
15.   What context clue shows us Never Ending Mountain is big?
15a. Never Ending
        Minli could not see the top of the mountain.
16.   How do we know Dragon and Minli support each other and are great friends?
16a. Instead of asking how Minli's family can have fortune, she asks how the dragon can fly.
       Dragon takes Minli to different places, saved her life from the horrible tiger, and waits for Minli until        she comes back from the Old Man of the Moon.
Obliged (pg. 211)
Nostalgia (pg. 246)
Baritone (pg. 255)
Exasperation(pg. 203)
Indistinct (pg. 276)