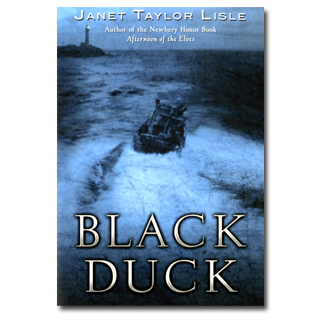 Black Duck
Juvenile Fiction
Paw Prints
April 18, 2008
Print
252

THE STORY:
Ruben Hart and Jeddy Mckenzie found a dead body on the edge of a beach. They both think he was a rumrunner, turns out he was not. He was just businessman who is in the rum smuggling business. They contact Jeddy's father because he is a police officer. They later come across an old man who used to be a rumrunner himself. His name was Tom Morrison, an old man who lives in a small hut on the beach. He lives with his dog Viola who is shot to death by some rum runners. When Ruben reached into the dead body's pocket, he pulled out a tobacco pouch. Near the middle of the story, Ruben discovers a half of a fifty dollar bill. Turns out, it was a "ticket". A ticket to verify that you are the rumrunners customer. In the end, a rumor spreads that Ruben has the ticket. The rumor started because Ruben's best friend Jeddy picked up the dollar bill for Ruben when he dropped it at school. Ruben gets abducted by the New York Mobs, then rescued by the Black Duck, a rum running group consisting of a few of Rubens friends. In the end, Ruben and all his friends are back from that ordeal and everything goes back to normal.
Ian Hsieh
Period 1, Mr. Oncay
Book Review: Fall '14
11/3/2014
REVIEW: Black Duck by Janet Taylor Lisle 
MY OPINION:
When I read the first chapter of this book, I did not think it was interesting at all. I decided to keep reading on and eventually, I loved the book. There was a good conflict and all the characters had different personalities. Ruben was the curious one and Jeddy was the kind of guy who would hang around Ruben all the time, but didn't consider them friends. I liked that the author used vocabulary that we have not learned yet, but you can probably make a guess to what is means. Overall, I would rate this book eight stars out of 10.
STUDY QUESTIONS AND VOCABULARY:
FIRST SECTION
1) Who was the rumrunner who still lived in town in 1929?
1a. Ruben Hart was the rumrunner. (pg.
2) Why did Jeddy call Mildred Cumming?
2a. Jeddy found a dead body by Coulters beach (pg.
3) Why was Jeddy's father disappointed?
3a. Jeddy and Ruben found a dead body, then it disappeared. (pg.
4) Could Ruben see when his bike light bulb burned out?
4a. Ruben could only see for about ten seconds. (pg.
5) Where did David's wife travel off to?
5a. Davids wife traveled to North Carolina (pg. 
Amok (pg.
Shrewd (pg.
Braying (pg.
Comical (pg.
Drab (pg.
MIDDLE SECTION
6) Why does Jeddy want to break Ruben and his friendship?
6a. Jeddy thinks that Ruben's dad is rum running. (pg.
7) How did Marina's bike get a flat tire?
7a. There was a steel tack on the pavement (pg.
8) Where was Ruben going to go investigate?
8a. Ruben was going to drop off some coffee grounds for Tom Morrison (pg.
9) Who is navigating the Black Duck
9a. Marina Mckenzie was navigating the Black Duck (pg.
10) What was Chief Mckenzie doing at his supper table?
10a. He was counting money and putting them into envelopes. (pg.
Pruning (pg.
Backlog (pg.
Skiffs (pg.
Decrepit (pg.
Biped (pg.
LAST SECTION
11) Who rescued Ruben?
11a. Billy Brady and the rest of the Black Duck crew. (pg.
12) Who did Ruben go crabbing with?
12a. Ruben went crabbing withTom Morrison. (pg.
13)  Who died early morning the next day?
13a. Jeddy Mckenzie died in the morning. (pg.
14) Who warned the Black Duck crew about the coast guard?
14a. Rick Delucca warned the Black Duck crew. (pg.
15) Who told Jeddy about the Black Ducks trip out to Mary Logan?
15a. Manny told Jeddy about Black Ducks crew. (pg. 
Seamstress (pg.
Wafted (pg.
Daggers (as an adj) (pg.
Kowtowing (pg.
Fricasseed (pg.