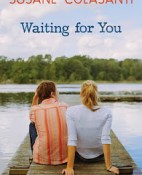 Waiting for You
Romance
Penguin Group (USA) Incorporated
4/6/2010
Print
336

Marisa is a teenage girl who has perfect friends and family. On the first day of tenth grade, she is assigned to sit with her neighbor Nash, whom she regularly goes to his house to do science homework together. One day, her best friend Sterling introduces her to a webcasting site who is hosted by a man called Dirty Dirk. The webcasts soon become very popular and everyone in the whole school listens to them. She also has a art class together with her crush, Derek. Derek is very friendly with Marisa and one day, he and his girlfriend break up.  Nash on the other hand, takes Marisa's friendliness as signs of flirting and attempts to kiss her. She refuses him and leads Nash to develop a relationship with a girl called Rachel. Shortly afterwards, Marisa and Derek soon become a couple. To Marisa's dismay, He and his ex-girlfriend still have feelings for each other and they soon break up. Following this break up, Nash is also dumped by his girlfriend. Marisa then finds out that one of her parents was cheating on the other and she is becoming more down in the dumps. Then, she listens to one of Dirty Dirk's webcasts and realizes who he is. She finds him and goes to kiss him then becoming a happy couple with him.
MY OPINION: This book is a very good read for a sixth grader. The storyline was very interesting and always captivated me to read more. Furthermore, the vocabulary is not very hard to comprehend and I would say the age range for this book would be ten to twelve years old. I liked how the author kept the story interesting by including many plot twists. She also depicts the setting very well and I was also not left wondering what happened to her other friends at the end of the book. She gave the book a good ending and I was completely satisfied about it. One of the cons about this story was the poor vocabulary and sentence structure. The author started many chapter with the same words and phrases which has caught my attention. She also includes unnecessary chapters which bored me a little. Overall, the story was a very good read and I would give it seven out of ten stars.
STUDY QUESTIONS AND VOCABULARY:
FIRST SECTION
Who does Marisa sit in front of in her science class?
1a. Marisa sits in front of her neighbor Nash. (pg. 14)
What does Nash collect?
2a. Nash collects bells from all around the world. (pg.24)
Who is standing in front of the store Shake Shack?
3a. Marisa's classmate Derek was standing in front of the shop.
Who hosts the All Talk, No Action webcasts?
4a. The mysterious webcaster refers himself as Dirty Dirk.
Who was the person that received Nash's love letter?
5a. A girl called Birgette receives his letter.
Heinous (pg 14)
Cognitive (pg18)
Parisian (pg 26)
Extrovert (pg 29)
Introvert (pg 29)
MIDDLE SECTION
Where does Marisa work after Thanksgiving? (pg.111)
6a. Marisa works at a store called Claire's after Thanksgiving.
Who does Marisa share her first kiss with? (pg.136)
7a. Marisa shares her first kiss with her crush Derek.
Which of Marisa's parents have an affair? (pg.144)
8a. Marisa's mom was caught having an affair.
Where does Marisa sit on Nash's sled? (pg.173)
9a. Marisa sits behind Nash when they were sledding together.
What does Julia tell Marisa? (pg.196)
10a. Julia told her that her boyfriend Derek sat with his ex-girlfriend Sierra during lunch
endorphins (pg. 127)
euphoria (pg. 141)
obscure (pg.152)
segues (pg. 163)
appendages (pg. 179)
LAST SECTION
Where does Marisa promise to go with Nash? (pg. 234)
11a. Marisa promises to go to the Dorkbot finals with Nash
What was in the box under Derek's bed? (pg. 254)
12a. Letter from his ex-girlfriend (Sierra) were in the box.
What was the name of the bowling alley that Nash, Sterling, and Marisa went to? (pg. 290)
13a. The name of the bowling alley is called Cosmic Bowling.
Who was really Sterling's online boyfriend, Chris? (pg. 302)
14a. Chris was actually a freshman from her high school.
What song does Dirty Dirk play when he is depressed? (pg. 308)
15a. Dirty Dirk plays a song called Treasure on his webcast.
Malarkey  (pg 204)
Perpetual (pg 239)
Wallow (pg 262)
Enatic (pg 269)
Regimen (pg 278)